Mission
Liana's Pet Services promotes health and wellbeing for all your pets by offering professional, caring, reliable and trustworthy dog walking and pet care services.  My primary goal is to provide exceptional pet care to all of your pets and to ensure their health, safety and contentment.  At Liana's Pet Services your pets will receive exercise, socialization, stimulation and unconditional love customized to suit you and your pets' needs.  My commitment is to provide the healthiest, most nurturing environment for your family member.
About Me
I am Liana Duplisea and I have an unsurpassed love for all living sentient beings.  I have taken my incredible love for all animals and decided to dedicate my life and my passion to my business, Liana's Pet Services.
My Furbabies

Eleanor
Eleanor is a 8-year-old, female English Bulldog.   Her spunk, unsurpassed affection and sweet personality melt my heart daily.  Eleanor is a Tricks Star Champion and has completed Level 6 Master Agility.  She loves to skateboard and go paddle boarding with her mom.
On Instagram at:  eleanor_the_bulldog_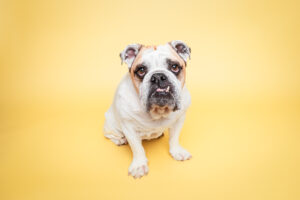 Muchacha
Muchacha is an 11 year old female English Bulldog who we adopted from Homeward Bound Rescue in 2020.   She melted our hearts from the day she walked into our home and her and Eleanor are inseparable.
Tottie & Isabelle
I am a big sucker for giant breed dogs and my two female Great Danes brought me nothing but joy. A gentle breed that is affectionate, loving and loyal.  They just don't live long enough and I miss them every day.

Duckie
My 19 year old female, Chinchilla.
She is very affectionate and loves dogs!  In a domesticated environment, chinchillas can live 20-25 years.   I was fortunate to have her by my side for 19 years.  Duckie passed in 2022 and is missed every single day.
Animal Knowledge
As an experienced dog walker and pet sitter, I have obtained practical knowledge of a variety of animal breeds, basic and advanced animal care duties and have hands on experience managing animals with behavioural issues.
All my life, I have always had the tendency to attract stray dogs and bring them home with me.   This passion of ensuring all animals are loved and have a home has led me to become a volunteer and foster 'paw'rent for Homeward Bound Rescue.
I have a true passion for learning about animal health, animal behaviour and pet care. I am familiar with a variety of training styles including: Positive Reinforcement, Reward Based Training and Click Training.   Obedience training schools I have attended include:
Additionally, I have attended many events and courses to improve my knowledge of animals including:
Professional Dog Walking Certificate, Canine Foundations, February 2018.
Certificate – Canine Foundations, Behaviour Consulting & Obedience Training, Canine Behaviour 102 – Separation Anxiety,  November 2018.
Certificate – Canine Attendant Training, Canine Foundations, Behaviour Consulting & Obedience Training, June 2017.
Certificate – Canine Behaviour 105 – Canine Foundations, Behaviour Consulting & Obedience Training, October 2017.
Certified in Pet First Aid with St. John's Ambulance, September 2016.
Dog vs Human Communication Workshop @ TopDog K9, October 2016.
Trick Dog Performance Training Course, November 2016.
Attended Cesar Millan Live, London ON.
Attend the annual Dog Tales Festival at Dog Tales Rescue and Sanctuary.
Member of the Barrie Area Bulldog Play Group.
Actively attend Vegan and Vegetarian Festivals to support, donate and acquire additional knowledge.
Advocate for: Mercy for Animals, Ontario SPCA, Vegan Outreach, Lost and Found Pets of Simcoe County, Southern California Bulldog Rescue, Great Dane Rescue Inc., Dogs Deserve Better, Paws in the City, Toronto Cow and Pig Save, Against Animal Cruelty and many others across the world.
Actively attend Bulldog Club of Central Canada charity events.
Supporter of Wishing Well Sanctuary, Barrie Humane Society, Alliston Humane Society, Orillia Humane Society, PETA.
Pet Care You Can Trust
Unconditional love for all your furbabies